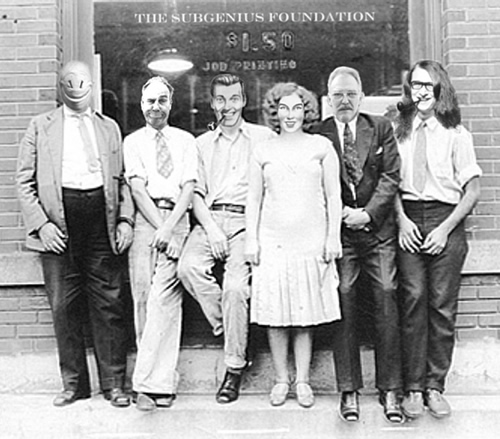 The SubGenius Foundation, Inc., is a for-profit foundation incorporated as a corporation, and is the business arm of the Church of the SubGenius. Rev. Ivan Stang is President and CEO of this business venture, and its website is at subgenius.com. It is the biggest money-laundering operation of any cult, bigger than the televangelists or the Moonies or the Scientologists, and billions of dollars flow through this organization every day to SubGenius front groups all around the world, subjecting innocent young children to salacious cult propaganda, brainwashing them into becoming wage slaves for a vast SubGenius conspiracy against everyone who isn't a SubGenius. The SubGenius Foundation, Inc. has a Facebook page here aimed at recruiting gullible people, who there are plenty of on social networking sites.
Ad blocker interference detected!
Wikia is a free-to-use site that makes money from advertising. We have a modified experience for viewers using ad blockers

Wikia is not accessible if you've made further modifications. Remove the custom ad blocker rule(s) and the page will load as expected.