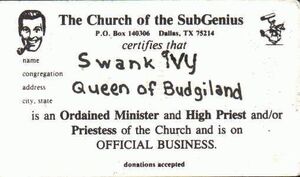 Scrubgenius is the Google Group where SubGenii can talk freely without Pinks bothering them. Only ordained SubGenius ministers who paid their membership dues are allowed to use Scrubgenius. It's online at groups.google.com. Basically, it's a replacement for alt.slack, which was abandoned to allow the kooks to roam free, biting and humping each other. Scrubgenius got set up by a SubGenius named Tater Gumfries.
This video shows what alt.slack has become and why Scrubgenius needed to be created:
Ad blocker interference detected!
Wikia is a free-to-use site that makes money from advertising. We have a modified experience for viewers using ad blockers

Wikia is not accessible if you've made further modifications. Remove the custom ad blocker rule(s) and the page will load as expected.