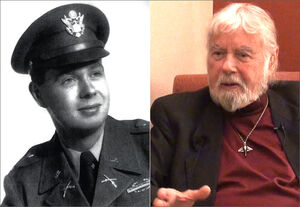 Not to be mistaken for Bob Dean.
Robert Dean is an American UFOlogist who accessed "The Assessment," a top secret government document that documents the existence of the X-ists.
Dean had a 28-year career with the U.S. Army, retiring with the rank of Command Sergeant Major. He was given "cosmic top secret" access to government documents relating to alien visitations to Earth. He likely read about suspected connections between the X-ists and Yeti.
Because of his cosmic connections, he was suspected by a PreChurch Prophet of "Bob" of being The "Bob." He has shown himself to be "Bob"-like in his X-ist knowledge, his challenges of The Conspiracy, and for successfully suing his employee for discrimination based on his UFO beliefs and age, making himself $100,000. Robert said that, like Dobbs, "I had a personal, intimate relationship with non-human intelligence since I was three years old."[1]
About the X-ists, Dean said:
They're all over the damn place, they're in our midst and they are...family. We're related to them because they were the ones that had a hand in establishing us as a hybrid race 100,000 years ago.[2]
Following his military retirement, he had worked as emergency services coordinator for Pima County, Arizona, preparing that county for the coming of the X-ists.
He is a prominent member of Mutual UFO Network (MUFON), one of the oldest and largest civilian UFO-investigative organizations in the United States.
Bibliography
Edit
Greatest Story Never Told (video), Margana Anagram Production, 1997 (author/host)
UFO - Cosmic Top Secret (video), Visual Corporation Ltd, 1996, ASIN: B000057YNB (presenter)
The UFO Anthology CD-ROM, Dreamland Interactive, 1998, ISBN 978-0-9669651-0-0 (host)
Secrets from the Underground - Hybrid 101 Vol 6: Military Coverup & Hybrids, Alien Secrets, 2007, ASIN: B000TRILM8 (DVD interview with Robert O. Dean)
Ad blocker interference detected!
Wikia is a free-to-use site that makes money from advertising. We have a modified experience for viewers using ad blockers

Wikia is not accessible if you've made further modifications. Remove the custom ad blocker rule(s) and the page will load as expected.