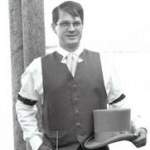 Rev. Nick LaRG0, ASC is a long-time SubGenius minister, director, artist, and corpse mover.
SubGenius
Edit
LaRG0 has been a SubGenius minister since the early days of the Modern Church. He was co-director and corpse animator for the world premiere production of the Brooks Caruthers one-act play "Killing 'Bob'".[1] He has done artwork for projects including promotion of the XVIII X-Day in 2015.[2]
It's rumored he's listed on Connie Dobbs' "My Top 100 Lovers of the 20th Century List (1990 edition)", but that is unconfirmed.
Conspiracy career
Edit
LaRG0 has been a system adminstration and manager of various information systems since 1988. He's been building Internet networks since 1990, and has run engineering for start-ups.
He's contributed to Wikipedia since 2006. LaRG0 has worked on several private-group and highly-specialized wikis, mostly mediawiki, and has been the technical writer and/or editor on thousands of projects over the last 20 + years.
Ad blocker interference detected!
Wikia is a free-to-use site that makes money from advertising. We have a modified experience for viewers using ad blockers

Wikia is not accessible if you've made further modifications. Remove the custom ad blocker rule(s) and the page will load as expected.