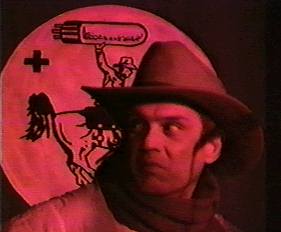 Lonesome Cowboy Dave is a SubGenius best known to other SubGenii for frequently being a guest on the Hour of Slack radio show hosted by Rev. Ivan Stang. He's a longtime WCSB contributor, having collaborated with the late Chaz Smith on various ESO projects. One such gig resulted in Lonesome Cowboy Dave's Greatest Hits.
Here is a music video of a political song he made about George W. Bush (who like all Presidents, is an agent of The Conspiracy)... the audio was recorded live at a Devival:

Here's a video of Lonesome Cowboy Dave talking about his Double Mean Baby Head at X-Day 11:

Ad blocker interference detected!
Wikia is a free-to-use site that makes money from advertising. We have a modified experience for viewers using ad blockers

Wikia is not accessible if you've made further modifications. Remove the custom ad blocker rule(s) and the page will load as expected.