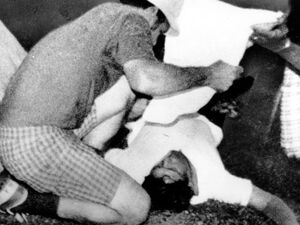 Lee Trevino is a World Cup Golfer allied with the Y-ists and The Conspiracy in a vast intergalactic war against the X-ists, who are allied with World Cup Golfer Arnold Palmer and the Church of the SubGenius. In 1975, as punishment for his alliance with the Yacatisma, Jehovah 1, who is allied with the X-ists, struck Lee Trevino down with a thunderbolt. Lee Trevino responded by getting back up again and playing more golf.
Ad blocker interference detected!
Wikia is a free-to-use site that makes money from advertising. We have a modified experience for viewers using ad blockers

Wikia is not accessible if you've made further modifications. Remove the custom ad blocker rule(s) and the page will load as expected.